Tai chi has become much more popular in the West since I began my study over 40 years ago. Still, it seems mysterious and seemingly difficult to fathom for many. My aim is to provide the curious, the interested and the devoted alike, a clear way to experience the highly practical and accessible principles available to us through the practice of this art.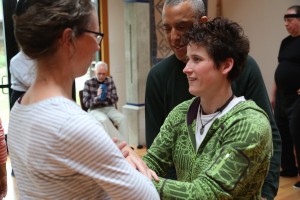 The fundamentals are essentially simple. We learn to relax and focus. We discover a grounding – available through relaxed alignment. Then, we learn to move while maintaining our balance. Opening ourselves to this type of mindful awareness in action provides a catalyst for a shift in perspective and in approach to life. The physical relaxation, alignment and openness also provide multiple health and wellness benefits as we learn to let go of stress and feel our life energy circulate freely within our body. The grounded relaxation and enhanced awareness reveal for us the innate courage we have to open our hearts and connect with all.
The tools I use are tai chi form, qigong and partner exercises from the lineage of Cheng Man-Ch'ing (Zheng Manqing) and related work from The Arica School®.


© 2015 Blue Tiger Way.
Arica School® is a registered trademark of Oscar Ichazo. Used with permission.